What is the Difference Between Wrongful Termination and Getting Fired?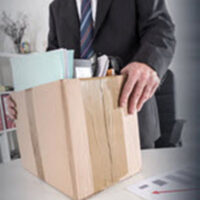 You might wonder why the difference between wrongful termination and getting fired is relevant because, either way you look at it, you are out of a job. However, the distinction is extremely important and could have a significant impact on your rights if you were recently let go. In Florida, the concept of employment at-will applies to employer-employee relationships. You can be fired for any reason, without notice, unless the reason is unlawful.
Therefore, you must focus on whether your employer engaged in misconduct in firing you. Employment laws protect your rights, so wrongdoing could allow you to recover compensation for your losses. Because it can be difficult to identify instances of wrongdoing, you should discuss your case with a skilled West Palm Beach employment lawyer. Some background on getting fired versus wrongful termination is also informative.
Understanding Wrongful Termination: If you were fired for cause or a lawful reason, Florida's at-will employment rule applies. However, if you were terminated in violation of employment discrimination laws, you could have a claim against your employer for wrongful termination. Unlawful reasons to fire you are:
You belong to a protected class, such as race, gender, disability, age, sex, or others designated by law.
You were fired for engaging in protected activities, such as filing a discrimination claim, helping another employee with a claim, or seeking workers' comp benefits. 
What To Do If You Were Fired: After learning that you were terminated, you might have reason to believe that it was an unlawful act by your employer. It is best to have an attorney assess whether or not the circumstances indicate discrimination, since it can be difficult to detect violations. Plus:
Carefully follow company policies about departing, especially on taking materials upon your exit.
Reach out to witnesses and co-workers that may have observed acts of discrimination.
Write down every detail that you think is relevant to a wrongful termination claim, such as the dates of events, emails, messages, and others.
With your lawyer's help, file a charge with the EEOC. 
Damages for Employment Law Cases: If you were fired illegally, you can seek monetary damages for your losses. You have been forced out of your position, so you could qualify for back pay and the front pay you could have earned. It is also possible to recover amounts for the value of lost benefits, emotional anguish, attorneys' fees, and interest.
In some cases, you might request equitable relief, where you ask the court to take a specific action. You could be reinstated to your position, or the court could order your employer to cease discriminatory acts.
 Contact a South Florida Wrongful Termination Attorney Right Away
You can see that there is a big difference between unlawful termination and getting fired, but it takes in-depth knowledge and skill to seek your legal remedies. Our team at Sconzo Law Office has extensive experience with these cases, so please contact us to set up a free case evaluation. You can reach our Palm Beach Gardens office by calling 561-279-6114 or visiting our website.
Source:
ncsl.org/labor-and-employment/at-will-employment-overview