The Protected Activities Exception To Florida's Employment At Will Law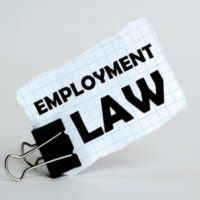 Many workers are aware of Florida's law on employment at will, which allows both employees and employers to terminate the employment relationship for almost any reason. Initially, the rule seems harsh and gives a significant amount of power to the employer. However, there are limitations on the employment at will doctrine that go a long way to protecting employee rights. Several federal statutes create exceptions, and the Florida Civil Rights Act (FCRA) mirrors these laws. The provisions make it unlawful to discriminate on the basis of race, sex, disability, religion, national origin, and other protected characteristics.
Another important exception to the employment at will doctrine is based upon an employee's participation in protected activities. A Florida employer does not have the power to take adverse action in these cases, and affected workers have legal remedies when a company violates the law. Your West Palm Beach employment attorney can advise you on details, and a summary is helpful.
Examples of Protected Activities: FCRA makes it illegal for an employer to discriminate against a worker for opposing the company's violations of law or raising unlawful conduct with government officials. These are considered protected activities under anti-discrimination laws, and they may include:
Filing a charge for racial discrimination;
Testifying in a hearing on behalf of another employee who claims sexual harassment;
Seeking workers' compensation benefits;
Participating in an investigation of the company for workplace violations; and,
Reporting the employer for criminal activity, acts of fraud, or related misconduct – i.e., whistleblowing. 
How Employers Violate the Law: It is rare that an employee would encounter direct, obvious forms of mistreatment by the employer after engaging in protected activities. Instead, the reaction from the company is likely to be subtle in how they affect the employee's rights. After learning that a worker participated in a protected activity, the company might:
Change that person's schedule to undesirable hours;
Move the work location or modify the workspace;
Reduce hours, wages, and benefits;
Alter job tasks;
Reassign any team members who were being supervised by the employee; or,
Exclude the worker from employer-sponsored meetings, retreats, conferences, and other activities. 
Your Rights Under Florida Law: FCRA and other anti-discrimination statutes give employees the power to seek remedies against an employer. If you were mistreated after engaging in protected activities, your first step is filing a charge with the Equal Employment Opportunity Commission (EEOC) or Florida Commission on Human Relations (FCHR). It is often possible to resolve your case at this administrative level, and you may qualify for back pay, forward pay, interest, and attorneys' fees. In some cases, you will need to go to court to enforce your rights.
 Get Legal Help from a South Florida Employment Lawyer 
The employment at will doctrine may seem to give employers an edge, but employees have remedies for violations of the law. Sconzo Law Office is prepared to assist with your options, so please contact our firm to schedule a free case evaluation. You can call 561-279-6114 or check out our website to reach our location in Palm Beach Gardens.
Source:
leg.state.fl.us/Statutes/index.cfm?App_mode=Display_Statute&Search_String=&URL=0700-0799/0760/Sections/0760.10.html