Signs Of Wrongful Termination By Florida Employers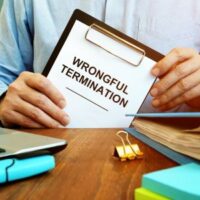 Many employees view getting fired as unfair and unreasonable, but termination by employers is often legitimate because of a basic employment law concept: In Florida and 48 other US states, employment relationships are considered to be at will. This means that an employer does not need cause to fire a worker. You may have performed job tasks properly, consistently made it to work on time, and complied with all workplace rules, but your employer could still terminate your employment without providing any reason.
However, the key exception to the employment at-will rule is that an employer cannot fire you for illegitimate reasons. When a company violates the law, an employee who was unlawfully discharged may have legal remedies against the employer. The key is recognizing the signs of misconduct, which are usually subtle since organizations do not blatantly engage in illegal acts. Discuss your rights with a West Palm Beach wrongful termination lawyer if you experienced any of the following:
Discrimination was behind your termination. It is illegal for a company to treat employees differently based upon protected characteristics, including race, religion, ethnicity, sex, disability, and other traits. Firing someone in violation of federal and state anti-discrimination laws is a type of adverse action that gives rise to a claim for wrongful termination. It is cause for concern if:
You were discharged after requesting accommodation for a disability;
You were one of several pregnant employees dismissed; or
Your employer made comments about a protected characteristic when firing you. 
Your employer breached an employment contract. Employer-employee agreements are legally binding, so you could claim wrongful termination if you were fired prematurely or in violation of the contractual terms. Keep in mind that an employee handbook could be considered an employment contract under certain circumstances, so the employer could be liable for breaking its own policies in terminating you.
You recently returned from leave. Under the Family Medical Leave Act (FMLA) and other statutes on employee leave, employers are required to keep your position open when you return. You must comply with the relevant statutory requirements, such as notice and duration of leave. However, terminating you after taking rightful leave for illness or other qualifying reasons is a violation of the law.
You filed a complaint about employer misconduct. If you reached out to HR, another department within the company, or a government agency to report legal violations by your employer, your actions are also protected. You also cannot be fired for seeking workers' compensation benefits due to a work-related medical condition. These are unlawful discharge claims based upon retaliation, which are actionable.
Consult with a Florida Wrongful Termination Attorney About Legal Remedies
If you were fired under suspicious circumstances, you may qualify to pursue your employer for damages. At Sconzo Law Office, our team is prepared to take appropriate legal action to enforce your rights, so please contact us to set up a free consultation. Individuals in Palm Beach County and throughout South Florida can call 561-279-6114 or go online to speak to a skilled wrongful termination lawyer.
Source:
ncsl.org/research/labor-and-employment/at-will-employment-overview.aspx#:~:text=Employment%20relationships%20are%20presumed%20to,dismiss%20employees%20only%20for%20cause