5 Points to Negotiate in Your Florida Employment Contract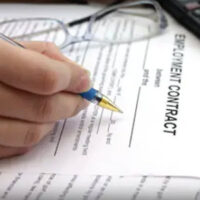 Especially in the early days of joining the workforce, it is likely that you were employed under the default rule that applies in Florida. Most employer-employee relationships are employment at-will, which means that either party can terminate or change the terms of employment at any time, for any reason. The only restriction on employment at-will is that actions by an employer cannot violate the law, including those on discrimination in the workplace.
When you move into higher level positions and advance in your career, you may eventually be presented with an employment contract. This changes the terms of employment at-will, because instead there is an agreement that dictates the employer-employee relationship. Under the circumstances, it is critical to assess, negotiate, and modify the terms. You will need guidance from a West Palm Beach employment contracts lawyer who can advise you on the following points:
Scope of Employment: An employment contract will certainly need to cover your duties and responsibilities, so carefully review terms on:
Your title;
The positions you will report to;
Performance goals and quotas you must meet, if applicable;
Location and place of employment;
Whether you could be relocated and under what conditions; and,
Details on required travel. 
Equity in the Company: While compensation is obviously a key component of your employment, an incentive used by many companies is granting ownership through stock, options, and related transactions. The employment contract should include specifics on how you become vested with these opportunities, as well as formulas for calculating pricing. 
Termination: You will need to know the circumstances surrounding the duration of your employment, which could be for a fixed term of years and subject to renewals. However, some employers will include provisions on termination for cause, such as:
The employee was convicted of a crime;
The employee committed an act of fraud or made misstatements on employment records;
Failure to meet specific performance levels; and,
General lack of performance of failing to comply with employment duties. 
Noncompete Agreements: Employers seeking to protect their private information and intellectual property may insert a restrictive covenant, such as a confidentiality agreement, noncompete agreement, or non-solicitation agreement. These clauses may violate Florida law if they do not protect a legitimate business interest and are not sufficiently limited in scope.
However, employers still include restrictive covenants in employment contracts. This is an important term to negotiate because it could severely limit your employment opportunities when you exit. Noncompetes are often unenforceable, which gives you leverage if you have to defend a potential lawsuit.
 Our Palm Beach County Employment Contracts Attorneys Will Guide You
Not all employment relationships are covered by an agreement, but you can see that there are important points to negotiate. If you were given an employment contract, do not sign until you consult with a lawyer. Our team at Sconzo Law Office will explain the provisions and help you understand how they affect your rights. Please contact us at 561-279-6114 or visit us online to set up a free consultation with a Palm Beach Gardens employment law attorney.
Source:
investopedia.com/terms/t/terms-of-employment.asp