4 Reasons To Have A Florida Attorney Review Your Noncompete Agreement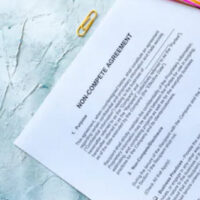 Florida employers often request employees to sign a noncompete agreement as a condition for employment, as a way of protecting their business interests. You might expect that a company has considerable leeway in creating such a contract, but there are limitations under Florida's statute on restraints of trade. Even though the point is to prevent a worker from taking trade secrets to a competitor, employers cannot require employees to execute an agreement that effectively stifles their employment opportunities.
However, this statute does not always stop companies from drafting noncompete covenants and expecting workers to sign. Some employers make mistakes or misunderstand the law, while others may blatantly violate your rights. If you were presented with this type of contract, it is critical to have a West Palm Beach noncompete agreements attorney review it. You could be signing on for obligations you did not realize, which could have profound implications for your future. You can trust a lawyer to:
Explain Terms and Conditions: A basic covenant not to compete will require the employee to avoid working for a competitor, sharing trade secrets, and engaging in other acts that adversely affect the current employer's business interests. The key provisions that deserve close scrutiny are:
The geographic scope or territory where the prohibitions apply;
The duration of the restrictive covenant; and,
What activities are prohibited. 
Assess Enforceability: Your employer may include the provisions described above, but that does not mean they comply with the statute. The noncompete is not enforceable unless it meets the legal requirements, so you would not be bound to honor it if a court finds it invalid. A judge might find the contract unenforceable if it does not protect a legitimate interest of the employer, and it must be reasonable considering scope and duration.
Advise You on Contractual Negotiations: A noncompete is an agreement, so do not think that you have no say in the provisions. You can and should negotiate terms that are more favorable, knowing your employer is not putting your interests first. In reviewing the contract, your lawyer will make you aware of terms to modify or reject. During negotiations, you level the playing field when you have legal counsel to deal with your employer 
Defend an Enforcement Action: If your employer attempts to enforce a noncompete on allegations that you breached the contract, it is critical to have legal counsel to assist with litigation. The company may request an injunction, ordering you to cease-and-desist with infringing activities. Your employer could also request monetary damages. However, these outcomes are not possible if the noncompete is unenforceable – an argument that an attorney can help you raise in court.
Rely on a Florida Noncompete Agreements Lawyer to Explain Details
A covenant not to compete might seem like any other contract, but keep in mind that your responsibilities could extend long after leaving the employer that had you sign. To avoid surprises, please contact Sconzo Law Office at 561-279-6114 or via our website. We can schedule a no-cost consultation at our offices in Palm Beach Gardens.
Source:
leg.state.fl.us/Statutes/index.cfm?App_mode=Display_Statute&Search_String=&URL=0500-0599/0542/Sections/0542.335.html