Important Facts About Florida Workplace Discrimination Claims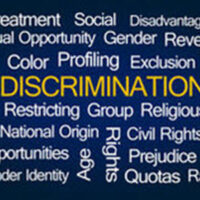 It is hard to believe that there are some Florida employers that still engage in workplace discrimination when many federal and state anti-discrimination laws date back several decades. However, researchers studying the extent of workplace discrimination have discovered that up to 55 percent of workers have experienced some form of mistreatment at their current employment. Even more employees, 61 percent, have witnessed discriminatory acts toward their fellow workers.
Some would be surprised that the percentages of employees who are subjected to discrimination increase for remote workers. For those employees working remotely, around 80 percent state that they were the subject of discrimination through video conferencing, work-based chats, and related interactions.
The study also found that approximately one-third of employees did not take action because they did not view the misconduct as a big deal. To be clear, discriminatory treatment on account of race, age, gender, religion, sexual orientation, or disability is always a serious matter. You can feel confident in enforcing your rights when you have a West Palm Beach workplace discrimination lawyer on your side. Some background facts about these cases are also informative.
Statutes of Limitations: There are numerous deadlines under anti-discrimination laws, and many relate to submitting a complaint regarding misconduct; they are not true statutes of limitations in the sense that you must file in court. If you are filing a charge with the Equal Employment Opportunity Commission (EEOC) alleging a violation of federal law, you have 300 days from the date you believe you suffered discrimination. However, if you are filing a complaint with the Florida Commission on Human Relations (FCHR) regarding a state law violation, you have 365 days. However, it is best to contact a lawyer and file a charge as soon as possible.
 Exhaustion of Administrative Remedies: Most laws prohibiting discrimination in the workplace will include a requirement that you attempt to resolve your complaint via the EEOC, FCHR, or another designated agency. You cannot initiate litigation until you have gone through the process, which is termed exhausting your administrative remedies.
 Harassment is Discrimination: Some employees who are subjected to harassment at work do not realize they have rights under anti-discrimination laws, assuming that the two concepts are separate. However, harassment is a form of discrimination because it involves unwelcome conduct. It becomes unlawful when:
Tolerating the acts of harassment is conditional for continued employment; or,
The misconduct is so outrageous, intimidating, and abusive that it creates a hostile work environment. 
Equitable Relief for Discrimination Cases: The goal of pursuing administrative remedies and/or a lawsuit is recovering monetary damages for the losses you sustain, such as back pay, interest, and the value of benefits. However, you may also be entitled to equitable relief, in which your employer is ordered to take certain actions. You could be reinstated, promoted, or given a raise through equitable principles.
Learn More by Consulting with a South Florida Workplace Discrimination Attorney
These are important facts to know, but it is essential to rely on an experienced lawyer when taking on an employer who violates anti-discrimination laws. For personalized details, please call 561-279-6114 or go online to reach Sconzo Law Office. We can set up a free consultation at our location in Palm Beach Gardens, FL.
Source:
nasdaq.com/articles/6-statistics-to-better-understand-the-extent-of-discrimination-in-the-workplace