Is Florida An At-Will State For Employment Laws?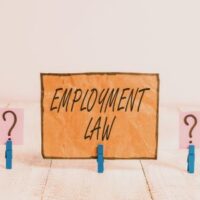 In short, yes, Florida does follow the law of employment at-will and the terms of the relationship are pretty straightforward. Employers need work performed, so they hire employees who are willing to complete the necessary tasks in exchange for money. Either party can walk away from the relationship for any reason or no reason at all. However, in practice, the laws are much more complicated. A maze of statutes, regulations, and legal concepts chip away at the notion of employment at-will, including federal anti-discrimination laws and the Florida statute on unlawful employment practices.
This brief summary might make it seem like employee rights are limited, but the exceptions to the employment at-will doctrine go a long way to protect your interests. Because of the complexities, it is wise to retain a West Palm Beach employment law attorney if you have concerns about mistreatment at work. A summary of employment at-will concepts is also informative.
 Understanding Employment At-Will in Florida: The doctrine essentially puts employer and employee on equal footing in terms of being able to terminate the employment relationship. There are no penalties or repercussions if you quit, and your employer is not punished for firing you without cause. The caveat is that the company cannot terminate you for reasons that violate the law. In this context, there are 2 key exceptions to the employment at-will concept:
If you and your employer signed an employment contract, you cannot be fired – and cannot quit – if doing so violates the agreement.
An employer cannot terminate you for reasons that violate the law.
With respect to #2, anti-discrimination, harassment, and retaliation laws enter the picture. A company violates the law by firing against a worker on account of race, sex, disability, and other protected characteristics. It is also unlawful to take adverse action because an employee participates in a protected activity, such as raising discrimination issues or filing for workers' compensation.
 Enforcing Your Rights Under Employment Laws: If your situation is an exception to the employment at-will doctrine, you have legal options for employer misconduct. The remedies vary according to the circumstances, but they may include:
Filing a charge with the Equal Employment Opportunity Commission (EEOC);
Submitting a complaint to the Florida Commission on Human relations; or,
Initiating a lawsuit in court, if you are not required to first exhaust your administrative remedies.
 Through these proceedings, it is possible to recover monetary damages for back pay, interest, unpaid benefits, and attorney's fees. You can also seek equitable remedies, such as being reinstated, promoted, getting a raise, or other relief.
 Learn More by Consulting with a South Florida Employment Lawyer
At-will employment may be the default rule, but you can see how other legal principles protect you from employer misconduct. For more information about seeking monetary damages and equitable relief, please contact Sconzo Law Office. Individuals in Palm Beach County can call 561-279-6114 or check out our website to schedule a free case analysis. Once we review your situation, we can explain your legal options.
Source:
leg.state.fl.us/statutes/index.cfm?App_mode=Display_Statute&Search_String=&URL=0700-0799/0760/Sections/0760.10.html