Accommodations In Public Places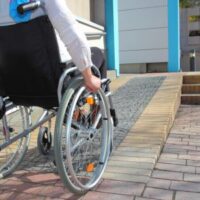 The Americans with Disabilities Act (ADA) is a federal law that prohibits discrimination against individuals with disabilities in all areas of public life, including employment, transportation, and public accommodations.
In this post, we focus specifically on ADA accommodation laws in public places.
Public places, such as restaurants, stores, and public buildings, are required by law to provide equal access to people with disabilities. This means that they must take reasonable steps to ensure that individuals with disabilities are not discriminated against and are able to enjoy the same services and activities as everyone else.
Here are a few examples of accommodations that public places may need to provide under the ADA:
Physical accessibility: Public places must ensure that their facilities are physically accessible to individuals with disabilities. This may include installing wheelchair ramps, widening doorways, and providing accessible parking spaces.
Communication accessibility: Public places must ensure that individuals with disabilities have effective communication with staff and other customers. This may include providing sign language interpreters, written materials in accessible formats, or assistive technology devices.
Service animal accommodations: Public places must allow service animals to accompany individuals with disabilities into their facilities. They cannot ask about the person's disability, require documentation for the service animal, or charge an additional fee for the animal.
Reasonable modifications: Public places must make reasonable modifications to their policies and procedures to accommodate individuals with disabilities. This may include allowing a person with a disability to bring a caregiver into a facility, or modifying a checkout line to accommodate a person who uses a wheelchair.
It's important to note that not all accommodations are considered "reasonable." A reasonable accommodation is one that does not create an undue burden on the business or fundamentally alter the nature of the goods or services provided. For example, a small business may not be required to install an elevator if it would be prohibitively expensive.
If you are a person with a disability and feel that your rights under the ADA have been violated, you can file a complaint with the U.S. Department of Justice, or a local disability rights organization, such as in Palm Beach County, the Palm Beach County Office of Equal Opportunity or in Broward County, the Broward County Office of Human Rights. Businesses that violate the ADA can be fined and required to make changes to their facilities or policies.
Further, you can contact a West Palm Beach disability rights attorney like the ones at Sconzo Law Office, to assist you in pursuing a claim against these businesses which failed to accommodate you.